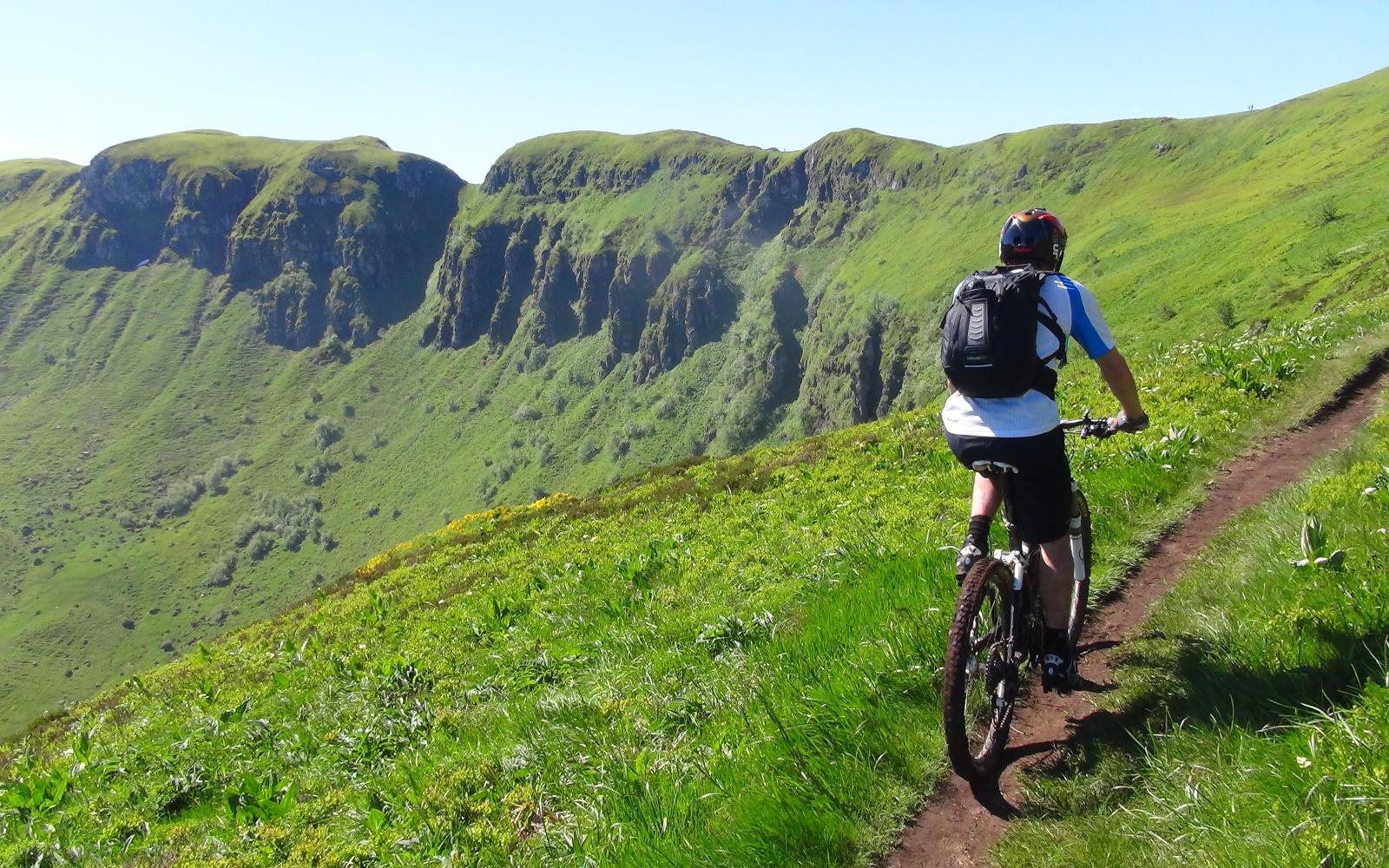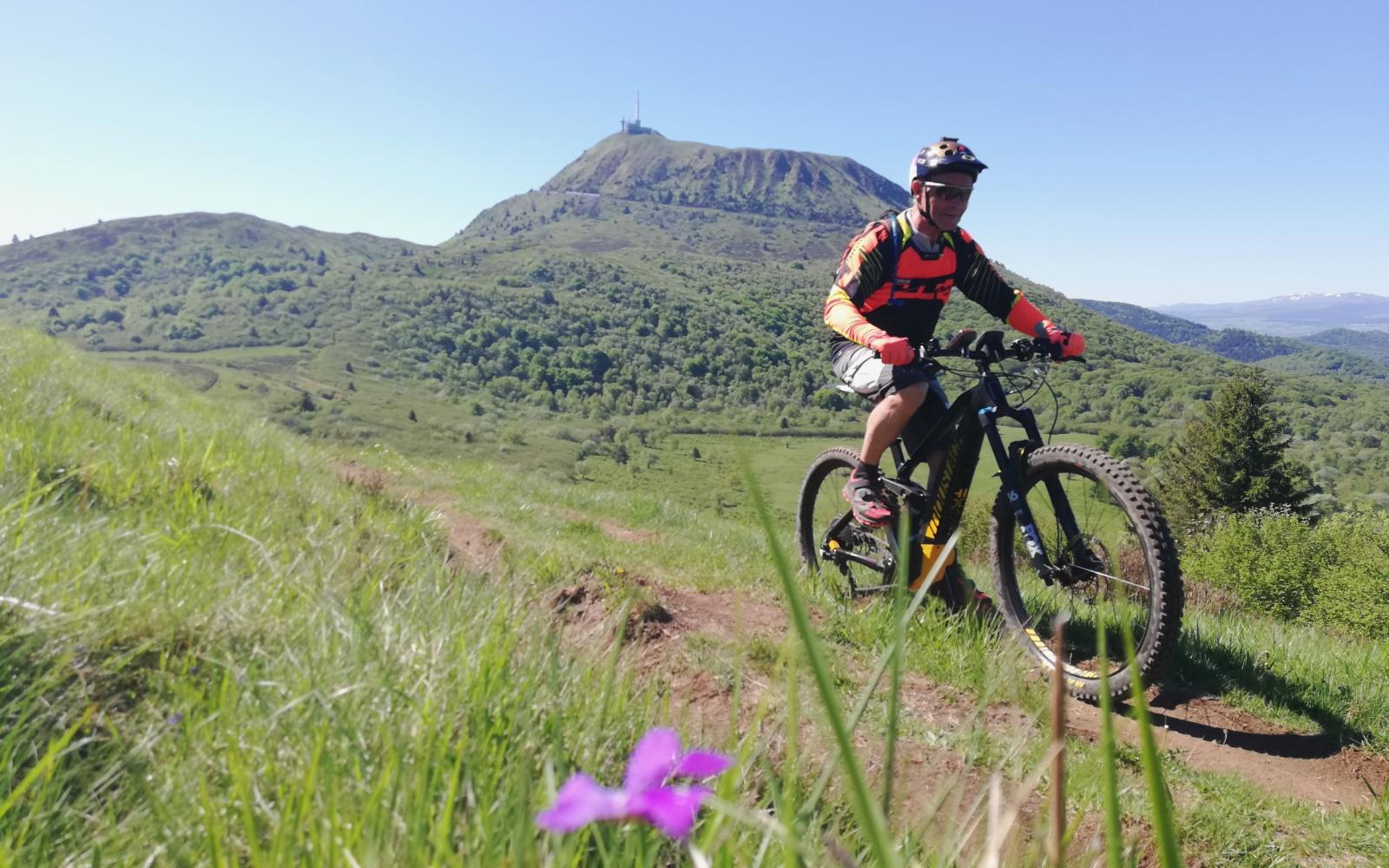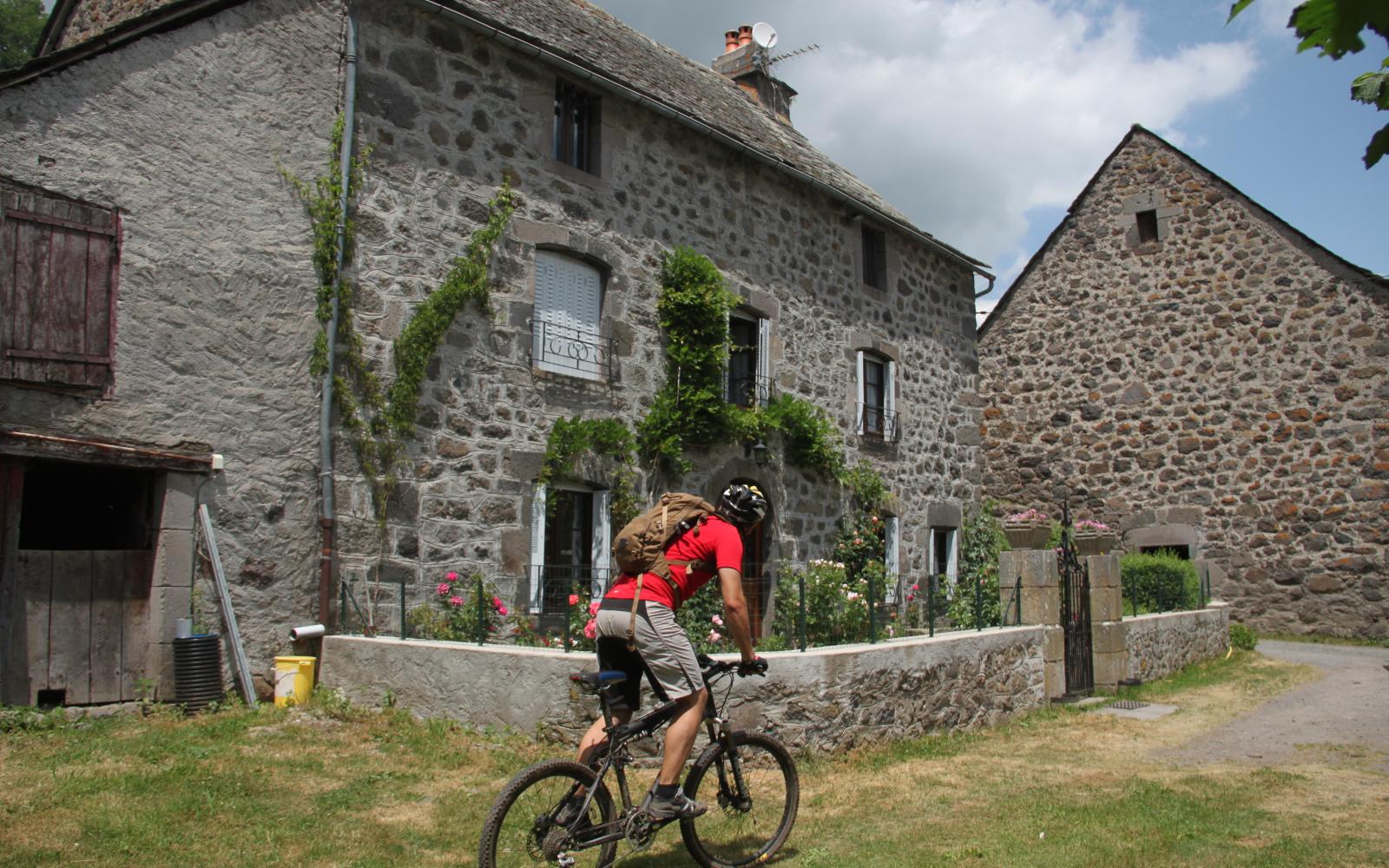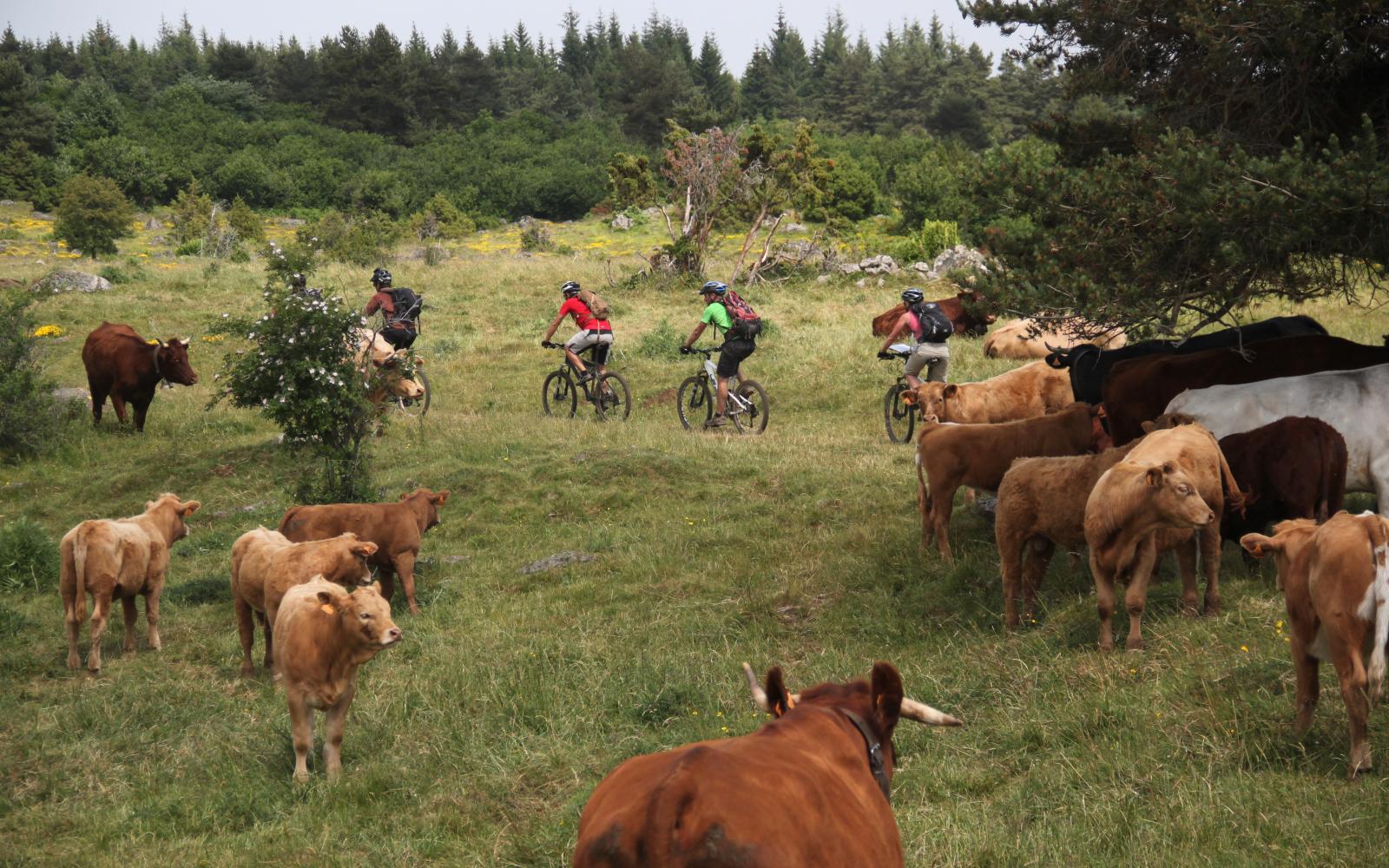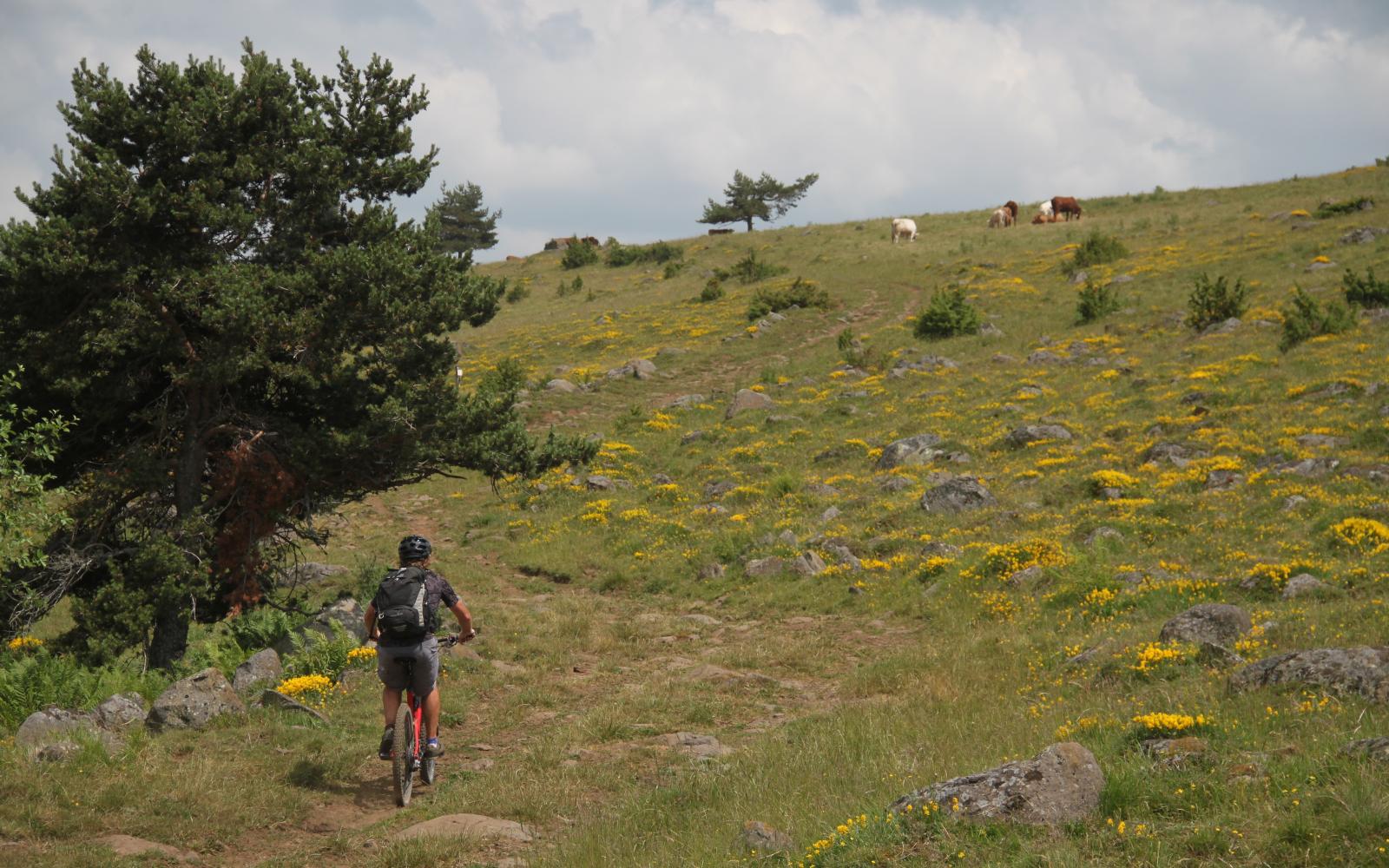 Volcano mountain biking
4 days / 3 nights
Auvergne - Mountain biking - Self-guided - MTB
Without guide - Short journey - Luggage transfer - New for 2021

Last updated: 13/02/2021
price from
~663 $ [635 €]
per pers.
HIGHLIGHTS
The ascent of some volcanoes on foot to admire the view.
The architecture and the unique character of remote villages that we are passing through.
In the Parc Auvergne Volcanoes, a mountain bike weekend in the middle of craters! Immersion in the crest of Puys: its 80 cones and volcanic craters: Puy de Dome, Puy Pariou, Puy de Come, Puy de la Vache and Puy de Lassolas; without missing its lakes (Servière, Aydat The Cassière). A volcano goes off, a mountain biker awakens!
Your day by day program
Day 1 : Clermont Ferrand - Volvic - Laschamps
After a quick transfer by train to Volvic, the media capital of Auvergne volcanoes, the day is devoted to the northern crossing of the Puys chain, via Puy de Nuger, the "Chopine " and the pass of Goules. Then comes the part with the very spectacular Puy de Come and its very technical "cheer" (old lava slide), Puy de Pariou, and Puy de Dome (1465m). The latter made legendary by the Tour de France. Last downhill to Laschamps village by the pass of Ceyssat.

Distance: approx. 45 km / altitude gain: approx. 1050 m
Laschamps - Southern crossing of Puys chain - Mont Dore
We leave the younger volcanoes of Auvergne to reach the old stratovolcano of Sancy by its eastern side, following the lava flows of Aurieres and Vernin. We discover the crater lake of Servieres and the forest of Pessade. We climb up to the col de la Croix de Morand (1401m) and ride down in direction of Lac du Gueryet, Roches des Tuillieres et Sanadoire on technical singletrails. Night in Mont Dore.

Distance: approx. 55 km / altitude gain: approx. 1200 m
Mont Dore- Laschamps
The giant Puy de Dome separates the chain into two sectors. Today we are exploring the volcanoes in the south. The both "Strombolians" La Vache and Lassolas offer to our eyes their craters letting escape the huge "cheire" (lava slide) Aydat from their mouth. They offer us dreamy single tracks towards the lakes Aydat and Cassiere. We continue on the westside of the Puy chain towards Laschamps passing by the Puys of Charmont, Vichatel, Montchal, Pourcharet, Mercoeur...

Distance: approx. 50 km / altitude gain: approx. 900 m
Laschamps - Clermont-Ferrand
Final downhill at the foot of Puy de Dome. We then bike towards the last volcanoes and the plateau of Gergovie overlooking the vast plain of Limagne and the cobbled streets of the ancient city and home of Chieftain Vercingetorix (but also of Michelin and its famous tires). Even during final ride in the city it still smells like sulfur: the cathedral of Clermont being itself built on a volcano!...

Distance: approx. 40 km / altitude gain: approx. 700 m

Itinerary end : The tour ends in Clermont Ferrand at 4pm. On demand we can book for you one supplementary night in Clermont Ferrand.
Departure board
This self-guided tour can be booked anytime from May to middle of October.
Technical information
Starting point
We will meet you on the 1st day at 9.30 am at the Clermont-Ferrand train station, on the paying car park at the back of the station, on the track side and not on the square side. Direct departure by bike, be dressed!
End
The last day at the Clermont-Ferrand train station, around 4pm.
Accommodation
Guest house, hotel.
We favour comfortable accommodation with warm hospitality.
Number of people
From 2 persons. Special offers for private groups. Please ask us for a quotation.
Level of difficulty
PHYSICAL LEVEL: YOUR PROFILE: Fairly sporty and fit, mountain biking regularly at least half the year (once a week minimum). DISTANCE AND ALTITUDE GAIN: Distance: 35 to 55 km per day depending on the route profile. Altitude gain: 1500 metres maximum accumulated over the day. TECHNICAL LEVEL : TYPE OF TERRAIN: Forest tracks and singletrack, alternating smooth (majority) and technical sections with "obstacles" (rocks, tree stumps, roots, etc.) that can be avoided, and steep singletrack. YOUR TECHNICAL ABILITY: You can control your bike speed and trajectory on moderately steep and technical singletrack.
Carrying
Luggage transport included. You will carry only your daypack. Your luggage transported from one accommodation to the next must fit in a single bag and must not exceed 20kg.
Options
MTB rental : 120€
Lunches (from day 2 to day 4) : 48€
Extra night pre or post tour (double room) : 55€
Extra night pre or post tour (single room) : 75€
Parking space for 4 days : 32€
Discount for 3 days / 2 nights (1 stage less) : -270€
Discount per person for a party of 3 : -70€
Discount per person for a party of 4 : -120€
Discount per person for a party of 5 : -140€
Included
3 nights in guest houses and 2* hotels in double rooms (DR) with en-suite facilities
3 breakfasts
3 dinners (3 to 4 course menu)
Daily baggage transfers
Detailed travel documents, highlighted maps and GPS tracks
Not included
International flights
Your transfer to the meeting place (see paragraph below)
All services mentioned in extensions
Insurance, assistance
Drinks at the accommodation
Visits to museums, monuments and sites not covered by the programme
Additional travel related to change in the programme due to bad weather
All personal expenses
Everything not mentioned under "the price includes".
Map
Similar holidays