Their holidays with Europe Active Cycling
They booked a trip with us. They are back and they tell us how it happened. You're next!
Eirik V.
Trip: Raid Corsica Audax Club Parisien
Date: 1 September 2019
Just finished a fantastic 7 days' cycle trop around Corsica. The route followed Audax Club Parisien' classic itinary and was organised by Europe Active in Borgo (Bastia).
Total distance was close to 1000 kms with a lot of climbing, partly bad road surface and rather warm weather... so lots of exercise and a good challenge! Europe Active provided maps, accommodation, picnic lunches and transported our luggage from hotel to hotel.
They did not cycle with us or meet us during the daily rides, but was availble on the phone if anything happened or if anyone needed transport to finish the daily distance. In our case, Europe Active also privided rental bikes and privided service to these if neccessay.
Corsica's nature is stunning, and we saw all highlights on this trip. Europe Active provided excellent service and charges competitive prices. Recommended for others in the coming years.
---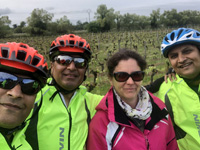 Ashish M.
Trip: Cycling the Canal de Garonne - Bordeaux to Toulouse
Date: 1 May 2019
We were not aware that we are creating permanent memories while having super fun.
You organize perfect holidays and have selected our stay at the place where no indian has visited so far. It was our first time as a cycling tour and first time hosting any Indians.
Tour map was so precise that we have stopped viewing our google maps.
We can't thank enough for the relaxing holidays.
---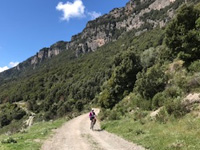 Valerie R.
Trip: Sardinia, between mountains and sea on electric bikes
Date: 30 April 2019
FABULOUS TOUR.
Extremely well thought out and organized. great routes, perfect itinerary!
---