Cycling holidays in Corsica
The Tour de France, 2013 put Corsica on the map, and with good reason.
Anyone who loves cycling must come and enjoy a cycling holiday on Corsica at least once in their life time. It's an opportunity not to be missed.
From leisure cycling to mountain biking to road riding, Corsica has it all. Corsica is often described as a 'mountain in the sea', providing challenges and scenery that will not disappoint. With twisty mountain roads providing tough climbs and fast descents that rival anything found in the Pyrenees or the Alps; quiet undulating back roads taking you through old villages, vineyards and orange groves, and breath-taking coastal roads with opportunities to sun bathe on the beach or swim in the sea. The scenery has to be one of the most diverse in the whole of Europe. With a rich and unique culture, the excellent food is yet another reason to spend your cycling holiday on this beautiful island in the Mediterranean.
Whether you wish for a guided group holiday, a self-guided road or leisure cycling holiday, you will find what you are looking for here on Corsica.
Epic rides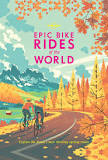 Europe Active has been listed by Lonely Planet as the provider of one of the best cycling destinations in the world, Corsica. Among some of the planet's most thrilling cycling routes in Africa, China, Patagonia, the Corsican scenic roads are plainly must-dos for the more intrepid cyclists.