Passport Corsica
Corsica, the island of beauty, wild and secret, is a destination that makes you dream: on the sea side, with its incredible white sandy beaches; on the mountain side with its peaks, forests, rivers and scrubland. Our itineraries will allow you to drive along the seaside roads as well as the superb cliffs.
You believe you have seen everything or you just want to ride a bike in an amazing location? Try Corsica, with its mountains, seaside roads and its amazing culture, you will love it. This remote island away from mass tourism is a gem for those who love riding and discovering.
Discover this natural heritage, which has not finished surprising you with the diversity of its landscapes. From UNESCO Heritage sites to prehistoric sites, sandy beaches to old laricio pine mountains' forests, be surprised with the variety Corsica is showing you.
To the north, after a visit to Bastia and its old port, follow the roads of the Cap Corse where local cyclists spend their week-ends, then discover the west coast: the Agriates desert, Calvi, Ile Rousse, without forgetting the UNESCO Heritage Patrimony's Scandola Nature Reserve, the Calanques de Piana and the Gulf of Porto. So many stunning routes ideal for cycling.
To the south, visit Ajaccio, Napoleon's birthplace and its Sanguinaires Islands, Propriano, Bonifacio on top of its cliff overlooking the sea towards Sardinia and the beautiful beaches of Porto Vecchio.
And don't forget the centre: climb up through the Castagniccia in the north and the Alta Rocca up to the Aiguilles de Bavella with suggested routes suitable for all levels. Heaven for riders willing to challenge themselves with winding tiny mountain routes.
Discovering Corsica by bike is a real pleasure, a beautiful adventure with splendid and varied landscapes, an incredible relief and very pleasant roads. E-bikes are allowing new possibilities and removing any limit to the cyclist riding level.
Road-bikes are one of the best way to discover the island if you are a strong cyclist and look for long and challenging rides. Hybrid bikes allow you to make the most of the scenery and have multiple stops on your way. Europe Active has a whole range of bikes for rent you can choose from.
Like many regions in France, Corsica now has its own appellation placing it on the list of the most beautiful cycling regions in France: La Grande Traversée, or GT20.
Europe Active has associated itself with this project of a cycle route which proposes 600 kilometres of tracks with 9500 metres of difference in altitude, crossing the island from North to South. To date, it has 12 steps: Bastia, Centuri, Saint Florent, Belgodère, Calenzana, Galéria, Porto, Vergio, Corte, Ghisoni, Zicavo, Zonza and Bonifacio.
During the crossing, connection points with the GR20 will be discovered. For the time being, the route is ready to be ridden but will be gradually improved with new signage and terminals for charging ebikes, bike repairing...
Some of our favourite trips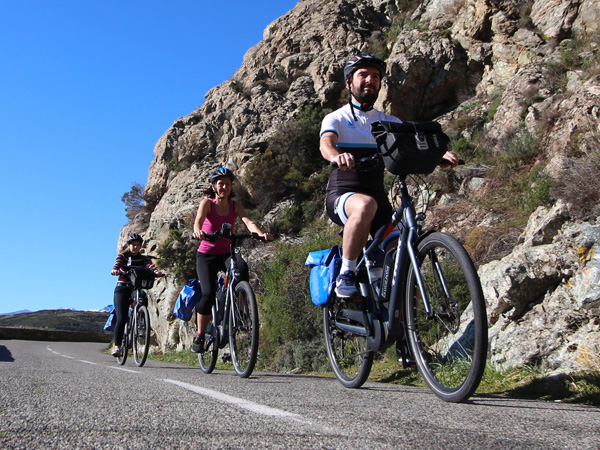 This e-bike ride follows the new route of the GT20: The Grande ...
View program
price from
~2565 $ [2360 €]
per person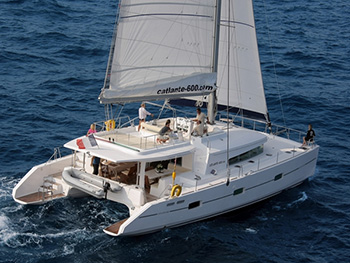 Combine the pleasure of cycling with the magic of the sea : ...
View program
price from
~3489 $ [3210 €]
per person
Practical Corsica
Customs formalities:
For residents of the European Union, no visa is required to enter French territory.
For residents outside the European Union, please contact the French Embassy nearest to your place of residence.
Access:
By plane
Corsica counts 4 airports: Bastia, Calvi in the north, Ajaccio and Figari in the south.
Flights are direct and departures are operated from many cities with 2 to 8 flights a day depending on the season (Paris, Lyon, Marseilles, Nantes, Nice, Toulon, Clermont-Ferrand, Toulouse...) but also with the possibility of departing from England, Switzerland, Sweden, Belgium... Most companies will accept bikes on board.
Regular companies are: Air Corsica, Air France et Hop.
Low cost companies are: Easyjet, Volotea, Transavia, XL Airways.
By Boat
Five Corsican ports are served by sea from the mainland: Bastia and Porto Vecchio on the east coast; Ile Rousse, Ajaccio and Propriano on the west coast.
Boats leave from Marseilles, Nice, Toulon and also from Italy from Livourne or Savone.
The crossing can be done during the day in 5h00 (express), for more comfort it can also be done at night and lasts 10h00.
The companies that served Corsica are: Corsica Ferries, Corsica Linéa, La Méridionale et la Moby Lines.
Preferred periods:
With its Mediterranean climate, Corsica enjoys pleasant temperatures all year round in all seasons. It is advisable to plan your cycling holidays between April and October.
In July and August, the temperature often exceeds 25/30 degrees with however strong nuances of temperatures due to the various heights. However, we advise you to avoid this period for your cycling holidays, during which the main roads are heavily frequented by tourists. If you cannot do otherwise, make sure to favour short stages, starting early in the morning. And we still have a few secret routes with few cars for you to cycle.
Climate:
Average temperatures
| Month | Jan | Feb | Mar | Apr | May | Jun | Jul | Aug | Sep | Oct | Nov | Dec |
| --- | --- | --- | --- | --- | --- | --- | --- | --- | --- | --- | --- | --- |
| Min (C°) | 7 | 7 | 3 | 11 | 12 | 14 | 16 | 17 | 16 | 15 | 12 | 10 |
| Max (C°) | 14 | 14 | 17 | 19 | 22 | 26 | 28 | 29 | 26 | 23 | 18 | 14 |
Average rainfall
| Month | Jan | Feb | Mar | Apr | May | Jun | Jul | Aug | Sep | Oct | Nov | Dec |
| --- | --- | --- | --- | --- | --- | --- | --- | --- | --- | --- | --- | --- |
| Rain (mm) | 60 | 55 | 55 | 65 | 40 | 25 | 10 | 20 | 55 | 90 | 95 | 70 |
| Days | 10 | 11 | 9 | 8 | 8 | 6 | 5 | 2 | 6 | 6 | 8 | 10 |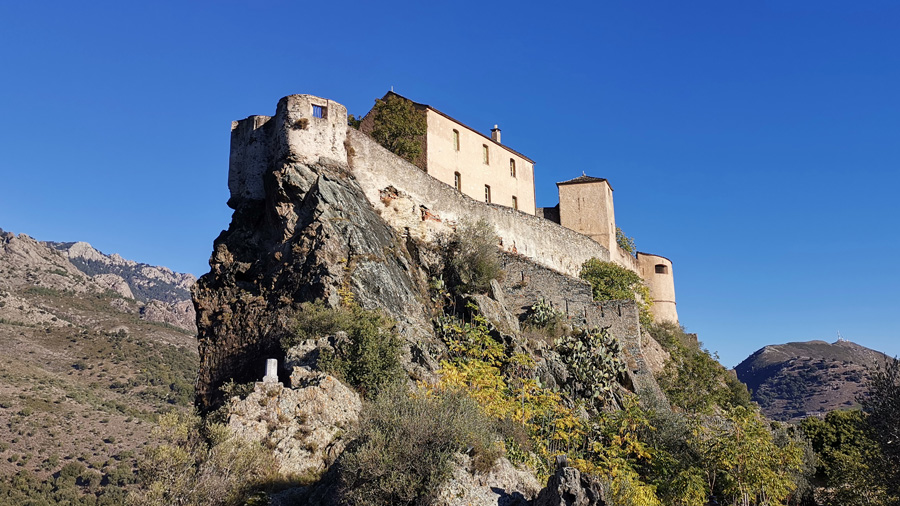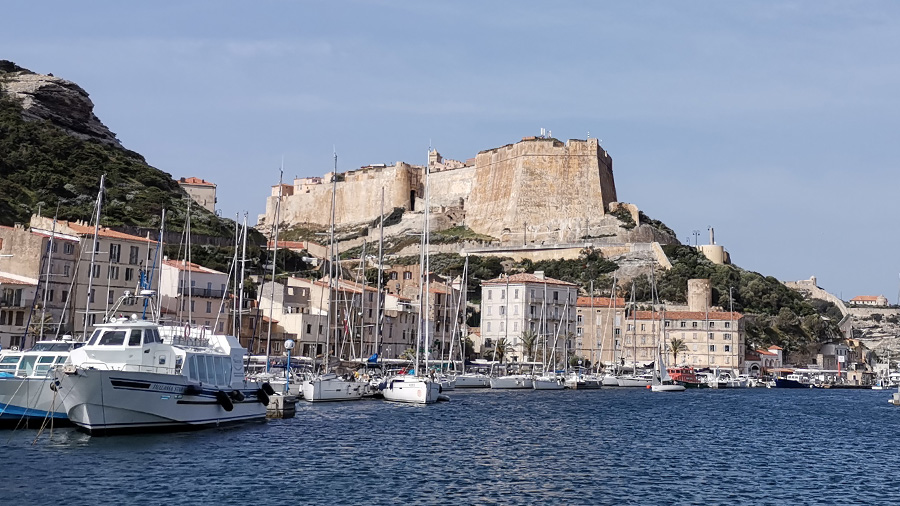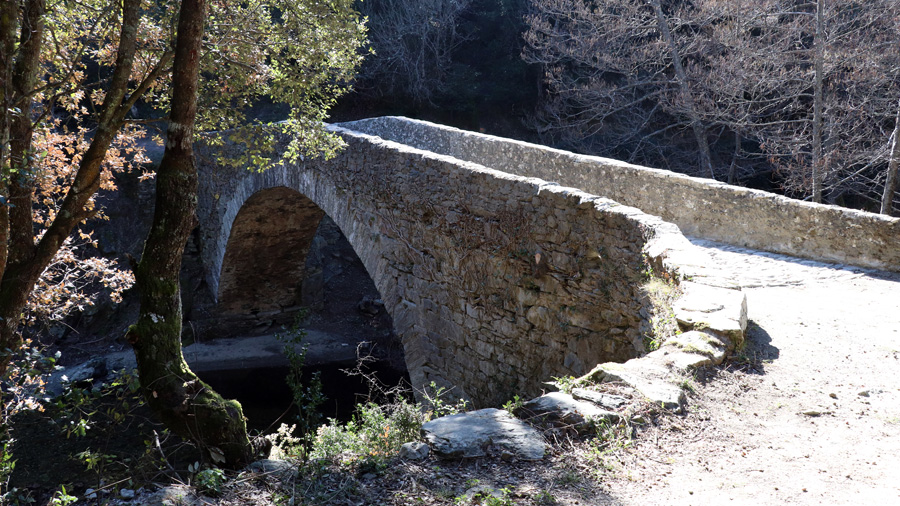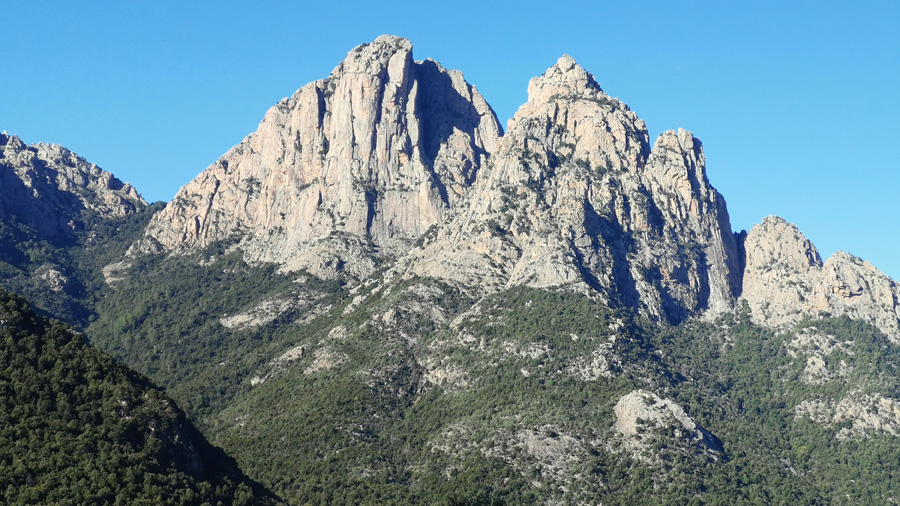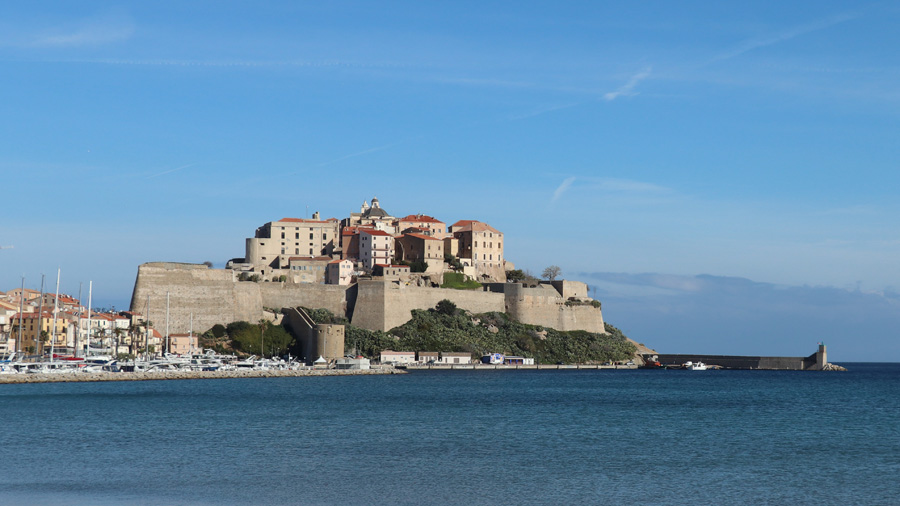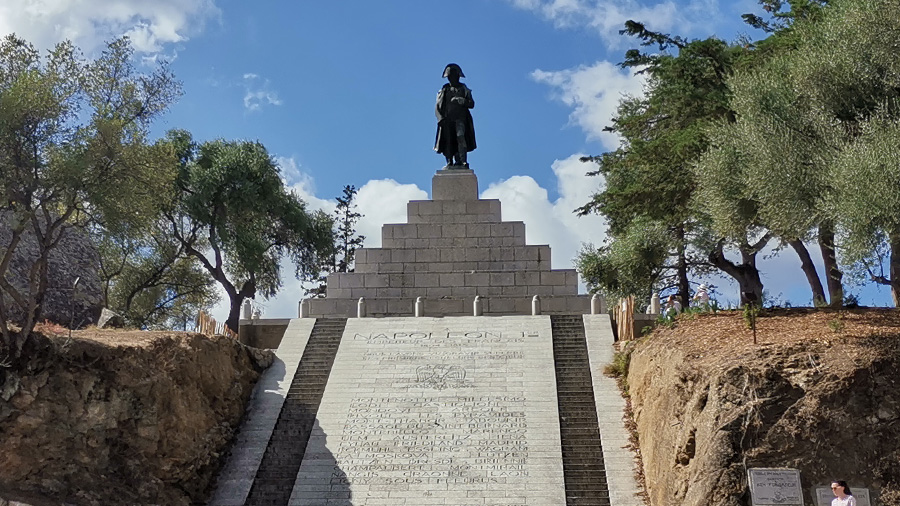 Accommodation:
The accommodations used in Corsica are of very variable categories: bed and breakfast (5 rooms max.), small charming 2, 3 or 4* hotels and gites. There are also a few very upmarket establishments in the 5-star category.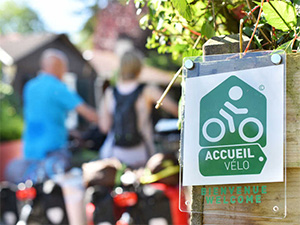 The "Accueil vélo" label is a national brand that guarantees quality reception and services along cycle routes for all cyclists.
It is the guarantee for the bicycle tourist to be less than 5km away from a cycle route, to have adapted equipment (secure bicycle shelter, repair kit), to benefit from an attentive welcome: useful information and advice (circuits, weather, ...).
Catering:
Corsican gastronomy is also varied and generous. Between traditional Corsican delicatessen (prisutu, coppa, lonzu and figatellu) and goat's and ewe's cheese (brocciu) without forgetting the specialities such as cannelloni with bruccio or lasagne with wild boar, bruccio fritters, fiadone and other delicious chestnut flour cakes.
The honey is also produced in Corsica and has a PDO label "mele di Corsica", unique with 6 different varieties just like the olive oil which also has its own PDO (Oliu di Corsica).
Corsican wine* also contributes to the island's fame with the wines of Patrimonio and Ajaccio and the famous Muscat du Cap Corse. Tastings are possible in many domains (Patrimonio, Calenzana...).
Myrtle, chestnut, cedar and lemon liqueurs* are served as digestives in most restaurants.
You will have a wide choice between refined cuisine or homemade pizzas, with Mediterranean cuisine, traditional inns or straw huts by the sea.
Europe Active will suggest several ideas depending on your budget and your step.
Breakfast is generally suitable for cyclists and should get you through the day. A snack at midday will give you the opportunity to take a break on your stage, as recommended in your road-book.
(* to be enjoyed with moderation when cycling!)
Money and budget:
As throughout France, the euro is the official currency. Most shops accept bank cards, with or without contact.
A baguette costs about 1 € and a coffee 3 €. Be careful with the prices which can vary according to the view, the season, etc...
Must-sees:
Bastia is a pleasant town with its old port, its citadel, the Governors' Palace, the Church of Saint John the Baptist and its museum.
The Cap Corse offers the wildest places on the island with magnificent viewpoints. Stroll through fishing villages such as Erbalunga, Macinnagio, Centuri and their Genoese towers. Enjoy a stop at Nonza, a village perched on a cliff with a breathtaking view of the pebble beach. Saint Florent with its fortified citadel, its marina, its pedestrian streets, its dream beaches and its protected gulf.
The crossing of the Agriates with a visit around Calvi and Ile Rousse.
Discover the wonderful Scandola Reserve and its sumptuous landscapes, from the calanques of Piana to Porto, one of the most beautiful sites classified of world interest by UNESCO.
Its roads are narrow, sinuous and spectacular with calanques that plunge into the sea.
Not to be missed: the visit of the Lavezzi Islands, very unique, excursions from Bonifacio.
The island has a rich and varied vegetation with many endemic plants that you will have the opportunity to observe and feel through the roads in the maquis such as, the arbousier, the rosemary, juniper, myrtle and the famous immortal used in cosmetics and essential oil.
You will be able to listen in certain villages and churches, during local celebrations, concerts or festivals, the famous and so particular Corsican polyphonic songs. U chjam'e rispondi (poetic jousts) and a paghjella, traditional songs sung in three voices a capella.
Particularities:
The Grande Traversée (GT 20) is a new cycle route: a major 600-kilometre tourist cycle route linking north to south and with 9500 metres of altitude gain, punctuated by 12 stages.
Thanks to the road books spotted and written by Europe Active, a clever mix of itineraries crossing the island, you will be in communion with its shores, its islands, its varied fauna and flora, its vineyards, its gastronomy, its typical and historical villages... You will be transported in a particular and unique atmosphere in the world.
Europe ACtive now offers unique digital road-books.
Rental of bicycles:
The bikes available for hire are aluminium or carbon road bikes, conventional mountain bikes/hybrid bikes or electrically assisted bikes (EAB). The equipment provided is: helmet, handlebar bag, rear panniers, bottle holders. The bikes are always serviced between each rental.
Rent on site or come with own bike?
It's tempting to want to come with your own equipment when you're used to it.
Apart from the space that a bicycle takes up in addition to luggage, it can also be damaged in transport and airlines do not always offer the possibility of transporting them to Corsica.
An Ebike is not transportable by plane because of the lithium battery.
Don't panic, renting allows you to benefit from a quality service: the equipment is robust and adapted, the Trek brand is privileged. It also allows you to experiment with other types of bikes: a Carbon road bike or a VAE which will be a real ally in the dusty climbs and will help you in your efforts against the wind. The autonomy of the batteries is largely sufficient for daily stages up to +/- 80km.
If you have your own bike, make sure you have it serviced before you leave, that the tires and brakes are good. This brings additional costs to your stay. And if you have a problem on the spot, the holiday can become complicated. Be careful when transporting on a rear bike carrier, check the bike's fixings and the legibility of the number plate.
Keep in mind:
wearing a yellow vest is mandatory at nightfall and in the event of poor visibility (fog, heavy rain etc…)
Wearing a helmet is compulsory until the age of 12, and highly recommended for everyone.
Most routes are on low-traffic roads, but shared with cars: keep to the right in single file.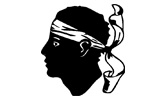 Identity Card
Name:
Corsica
Prefecture:
Ajaccio
Currency:
Euro
Population:
334 938 (2017)
Surface Area:
8 722 km²
Time Zone:
Paris (GMT+1)
International Code:
+33