Passeport The Loire
The Loire is the longest river in France with a distance of over 1,006 km. The Loire river drains a fifth of France's land area as it begins its life in the highlands of the south eastern Massif Central, before flowing north through Nevers to Orleans, then west through Tours and Nantes, before reaching the Bay of Biscay at Saint Nazaire.
The river Loire crosses 4 French regions (including Auvergne-Rhône-Alpes, Burgundy-Franche-Comté, Pays de la Loires) before joining the Atlantic Ocean, but it is in the Loire Valley that we choose to follow its course for a moment. For cycling along the banks of the Loire, between Orleans and Angers, is to ensure a moment of relaxation both natural and cultural. No wonder the first French cycle paths were born west of Tours about 15 years ago: the "Loire à vélo" was created in 2003, and serves as an example for other French regions who are creating cycle paths today.
The Loire Valley is a territory where you feel good from the first pedal stroke. Cycling is a real pleasure because of the flat terrain and the many riches to discover. The Loire valley cycle path is sufficiently long, with plenty of loops and alternative itineraries, so that even though it's a popular route, the cyclists are well spread out.
Whether you are travelling as a couple, with friends or with your family, the Loire valley by bike is a real pleasure.
Some of our favourite trips
Along the river Loire, through the vineyards of Touraine, the quiet countryside, ...
View program
price from
~696 $ [640 €]
per person
Practical Loire
Customs formalities:
For residents of the European Union, no visa is required to enter French territory.
For residents outside the European Union, please contact the French Embassy nearest to your place of residence.
Access:
You can reach the main cities of the Loire Valley by car, train or plane:
Come to Orleans
By car:

A10 > Paris - Orléans - Bordeaux
A71 > Orléans - Bourges - Clermont-Ferrand
A19 > Artenay - Orléans - Courtenay
D2020 > Paris - Orléans - Toulouse

By train:

Two SNCF stations serve the regional capital which is located 1 hour from Paris and Tours: the Orléans station, located in the city centre, and the Fleury-les-Aubrais station, located further north. They are connected by daily SNCF shuttles and by tram.

By plane:

Located 20km east of Orléans, Orleans Loire Valley Airport, in Saint-Denis-de-l'Hôtel, allows air access for light airplanes, tourism and business.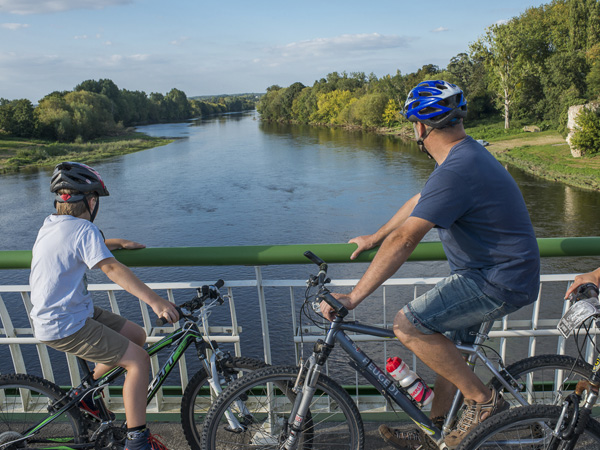 Come to Blois
By car:

From Paris: 180 km (2h)

A10 motorway: Paris / Bordeaux – exit Blois
D 2152 departmental road (old RN 152): Paris / Orléans / Blois

From Nantes: 285 km (3h)
From Lille: 400 km (4h)
From Lyon: 450 km (4h30)
FromBordeaux: 400 km (4h)

By train:

1h30 from Paris (Gare d'Austerlitz): line Paris / Tours and Paris / Nantes

By plane:

From Paris: Orly airports (180km) or Roissy-Charles de Gaulle airports (220km)
From Tours: airport Tours - Loire Valley (60km)
Come to Tours
By car:

A10 (Paris - Bordeaux): exit 21 at Tours Center
A28 (Rouen - Tours): exit 20 at Tours
A85 (Nantes - Bourges axis): exit 10 at Veigné

By train:

Count 1 hour TGV to travel between the station of Paris Montparnasse and the station of Tours / Saint-Pierre-des-Corps.
Approximate travel times to other cities: Bordeaux (2h), Reims (3h), Lille (3h), Metz & Nancy (3h30), Brussels (3h40), Lyon (4h), Strasbourg (4h), London (5h), Marseille (5h30).

By plane:

Tours-Val de Loire airport is open all year round to links with London, Porto and Marrakech, plus in summer Marseille, Dublin, Ajaccio and Figari.
Taxis, rental cars and coaches are available upon arrival, allowing you to reach in less than 10 minutes the city centre of Tours and the TGV station.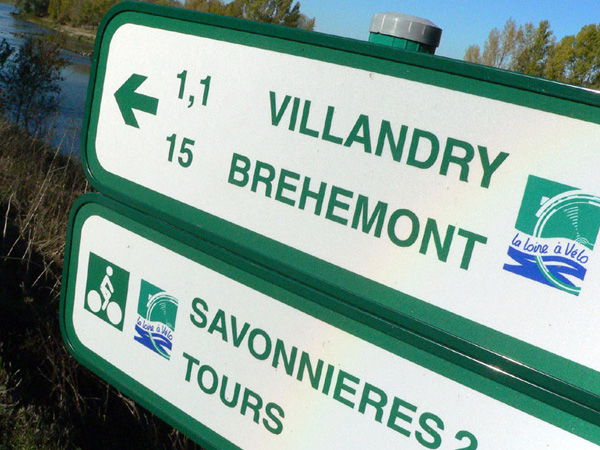 Come to Saumur
By car:

Paris - Saumur: 3h (A11 and A85 highways, Saumur exit)
Nantes - Saumur: 1h30 (A11 and A85 motorways)
Angers - Saumur: 45 minutes (D952)
Tours - Saumur: 45 minutes (D952)

By train:

Travel by train from Paris Montparnasse to Saumur in 2h04m
TGV link Paris - Tours (Saint-Pierre-des-Corps), then TER to Saumur
TGV link Paris - Angers, then TER to Saumur
From June to September, TER Interloire "Loire by bike station to train station": very practical as you can take your bike on the train, without reservation within the limits of available seats.
Come to Angers
By car:

Motorways A11, A85, A87
Nantes-Angers: 45 min
Rennes-Angers: 1h45
Paris-Angers: 2h30
Bordeaux-Angers: 3h40

By train:

Very frequent TGV connections - Saint-Laud SNCF station
Atlantic Coast 60 min (Nantes 40 min)
Paris 90 min
Lille 3h30
Lyon 3h50
Bruxelles (Thalys / TGV) 4h10
London (Eurostar) less than half a day

By plane:

Nantes Atlantique Airport 40 min by TGV = airport shuttle
Paris CDG Airport 2h20 by direct TGV - 84 min from Paris Montparnasse
Airport Loire Airport 15 min from Angers by taxi. Flights from Bastia.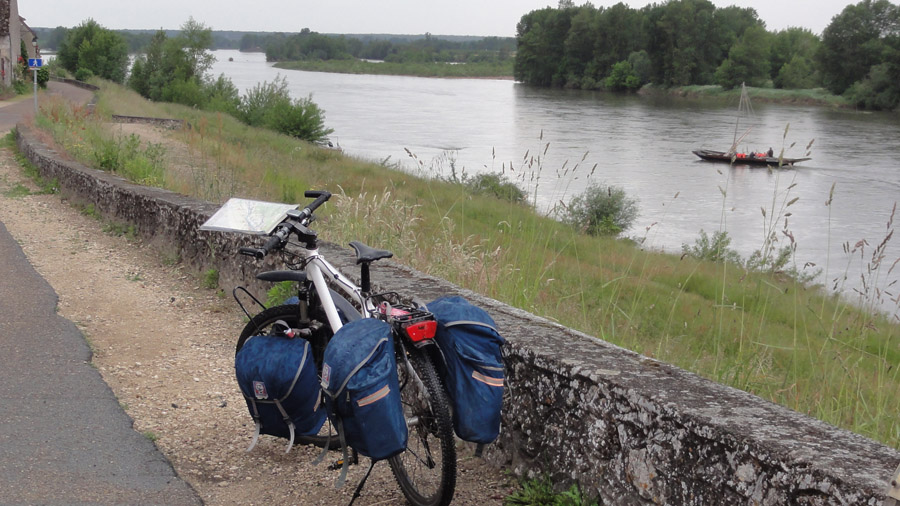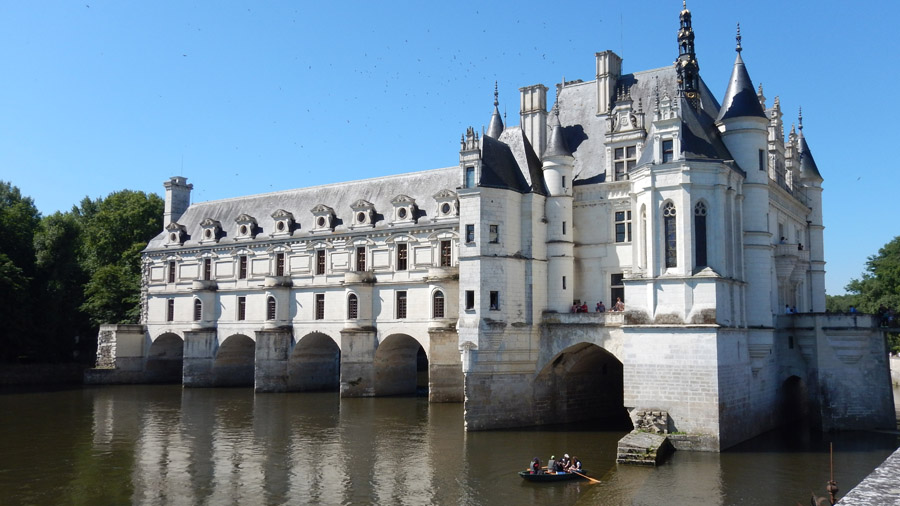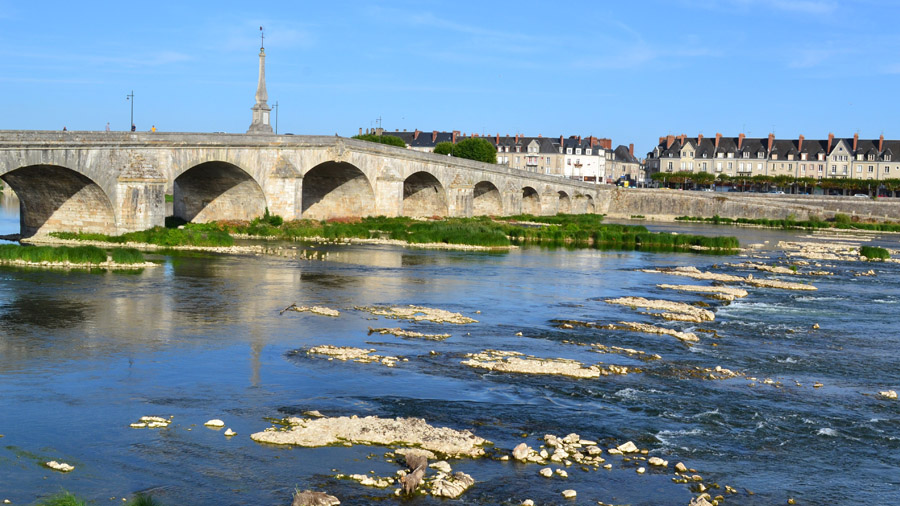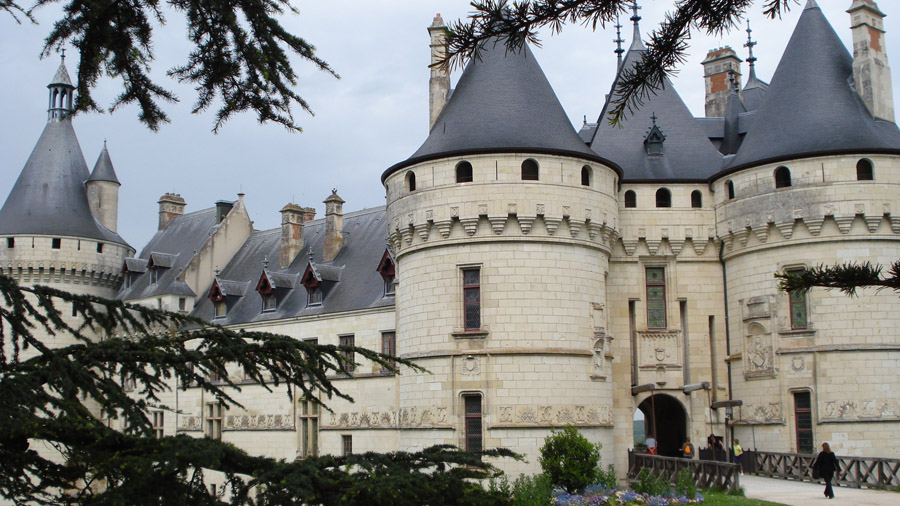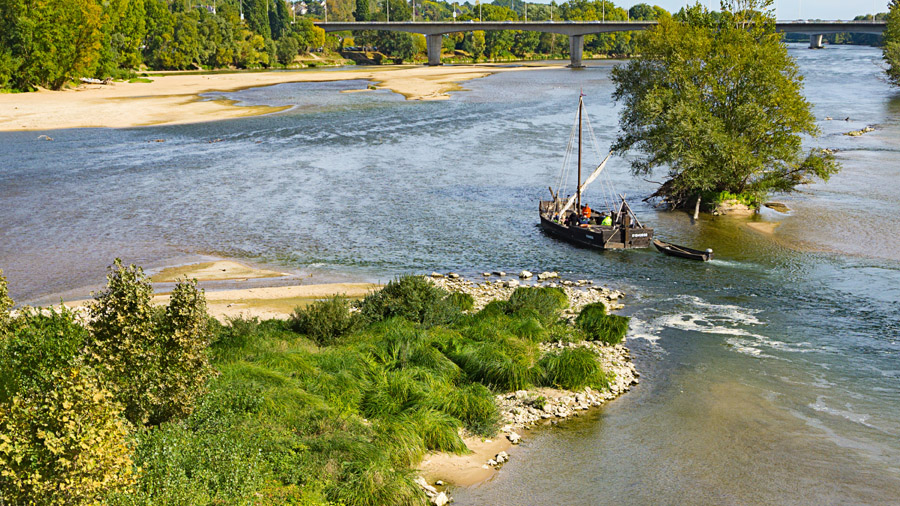 Preferred periods:
Located in the centre of France, the Loire Valley is known for its mild weather. Although the temperatures are pleasant in winter, the region remains wet.
It is advisable to plan your cycling holiday in the Loire Valley from early April until mid-October in order to enjoy longer and warmer days in the saddle.
Castles and tourist sites are full of events throughout the season.
Climate:
Average temperatures (Orléans) source fr.weatherspark.com
| Month | Jan | Feb | Mar | Apr | May | Jun | Jul | Aug | Sep | Oct | Nov | Dec |
| --- | --- | --- | --- | --- | --- | --- | --- | --- | --- | --- | --- | --- |
| Min (C°) | 1 | 1 | 3 | 5 | 8 | 12 | 13 | 13 | 10 | 8 | 5 | 1 |
| Max (C°) | 7 | 8 | 13 | 17 | 20 | 24 | 27 | 26 | 23 | 17 | 11 | 8 |
Average rainfall (Orléans) source fr.weatherspark.com
| Month | Jan | Feb | Mar | Apr | May | Jun | Jul | Aug | Sep | Oct | Nov | Dec |
| --- | --- | --- | --- | --- | --- | --- | --- | --- | --- | --- | --- | --- |
| Rain. (mm) | 41 | 35 | 31 | 40 | 48 | 41 | 40 | 35 | 41 | 49 | 43 | 45 |
| Days | 10 | 9 | 9 | 8 | 9 | 6 | 6 | 5 | 6 | 8 | 9 | 10 |
Accommodation: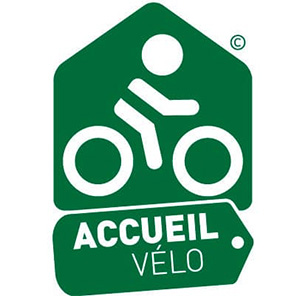 The accommodation used in the Loire Valley are of very different categories: Bed and Breakfasts (Chambres d'hôtes - 5 rooms max.), small boutique hotels of 2, 3 or 4 star and luxury Relais & Châteaux (5 star).
The "Accueil vélo" label is a national brand that guarantees quality hospitality and service along cycle routes for the itinerant cyclist.
Where you see the "Accueil velo" label, you are guaranteed to be within 5km of a cycle route, to have equipment at hand (secure bike shed, repair kit etc), to receive a caring welcome, and to be able to find good information and useful advice (about rides, weather etc).
Catering:
Like many French regions, the Loire Valley is full of local specialities: Nougat de Tours, stuffed galipettes (mushrooms stuffed with rillette), fouées and fouaces (traditional breads both sweet and savoury), goat's cheese, macaroons, etc.
Many restaurants offer traditional dishes based on Loire fish (carp, barbel, mullet, catfish). As an accompaniment, let yourself be tempted by a Loire wine* with subtle and fruity aromas: Saumur-Champigny or sparkling Vouvray (whites), Saint-Nicolas de Bourgueil (rosé), Chinon (red).
Discover some of the most famous wines in the region by stopping to do some wine tasting.
In the Loire Valley, you will find a wide choice of good places to eat including simple inns, or places offering traditional or gourmet food. Europe Active can suggest ideas for you, depending upon your budget, tastes and your location.
Breakfast is generally suitable for cyclists and should give you what you need to start your day. A light lunch at midday will be an opportunity to take a well deserved break, as recommended in your road-book.
(* to consume within moderation when cycling!)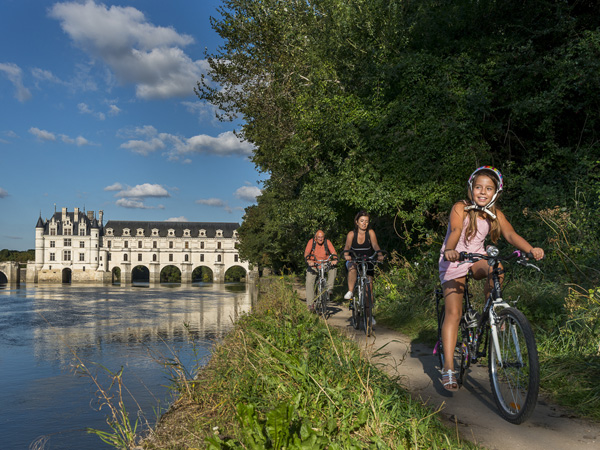 Money and budget:
The euro is the official currency. Most businesses accept credit cards with or without contact.
A baguette costs around €1 and a coffee €1.50 (2018).
Must-sees:
The Loire Valley is home to most of the castles recognized under the name of Châteaux de la Loire and several vineyards.
The famous castles of the Loire, which for some were royal residences, are not to be missed. These include: Chambord and its area of ​​5440ha, Cheverny who served as a model for Moulinsart in the comics of TINTIN, Chaumont-sur-Loire and gardens that welcome every year different artistic works, Chenonceaux also named "the castle of the Ladies", the royal castle of Blois, Villandry and its French gardens, the castle of Sleeping Beauty in Rigny-Ussé, the royal fortress of Chinon, the Renaissance castle of Azay-le-Rideau, the castles of Amboise, Saumur and Angers.
Other sites and monuments less famous, but equally rich in history, reflecting life in the Middle Ages and the Renaissance, are all small treasures that can be discovered on your cycle routes. They are indicated in your road-books and for the most part, offered at advantageous rates.
As for the hillside vineyards of the Loire Valley, they are characterized by a great diversity of climates and soils giving birth to a wide variety of wines, which are famous throughout the world. The wines of the Loire Valley come from a palette of grape varieties unique in the world. From Chenin to Cabernet, including Sauvignon and Burgundy melon, 24 varieties make up their diversity. Rosé, red, white, dry, semi-dry, mellow or sweet, fruity, round, robust. The 50 appellations, denominations and IGP of the Loire Valley represent a large family.
Particularities:
The Loire à Vélo is an important cycling tourist route. It is actually the longest in France at 800 kilometres, part of the huge Eurovelo 6 European cycle route. It links the city of Cuffy (near Nevers, Nièvre) to Saint-Brevin-les-Pins (near Saint-Nazaire, Loire-Atlantique). Its particularity is the fact that it runs along the Loire, the largest wild river in Europe. It is therefore a unique way to visit the Loire Valley, a UNESCO World Heritage Site. Loire à Vélo and the Loire Valley are complementary, and there is no doubt that this is the most scenic, cultural, eco-responsible and healthy way to visit this region.
Thanks to the route notes written by Europe Active, you have a mix of primary and secondary routes all along the river allowing you to discover the Loire's shores, its islands, its fauna and its varied flora, its vines, its gastronomy, its towns, its typical and historic villages, as well as its castles. In short, a unique atmosphere in the world.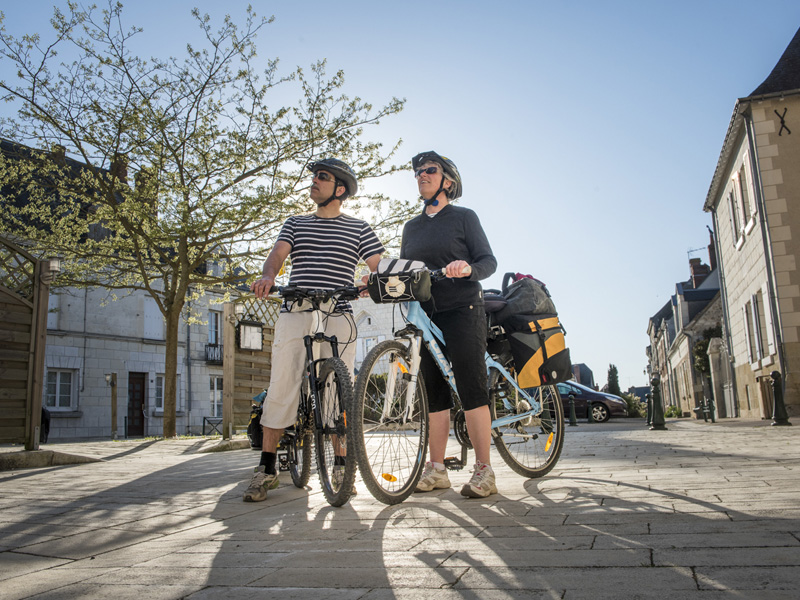 Bike rental :
The bicycles available for rent are hybrids or electric-assisted bikes. The equipment provided is: helmet, handlebar bag with map holder, rear bag. In case of a puncture, you have what you need to repair it (repair kit, pump). Bicycles are systematically maintained between each rental.
Rent on site or come with your bike?
This is a question that many are asking! Besides the space that a bike takes in addition to luggage, it can also be damaged during transportation. Renting allows you to benefit from a quality service (the material is robust and adapted). It may also be an opportunity to try out an e-bike which will be a real ally in the climbs and will help you in your efforts against the wind. Battery life is largely sufficient for daily rides up to +/- 80km.
If you are bringing your own bike, make sure you have it checked before your holiday (check that the tyres and brakes are good in particular). Be aware that this brings additional costs to your holiday. Be sure you can handle problems that might occur whilst you are away. Be careful also with the transportation of your bike. If you are using a vehicle with a rear bike carrier, check the bike mountings and the visibility of the license plate.
Keep in mind:
A bright yellow jacket must be worn at dusk and in case of poor visibility (fog, heavy rain, etc.)
Helmets are mandatory until 12 years old and highly recommended for all.
some of the cycle routes use low-traffic roads, which are shared with cars: keep to the right, in single file.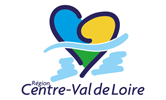 Informations
Name:
Centre-Val de Loire
Country:
France
Currency:
Euro
Population:
2 578 592 (2015)
Surface area:
39 151 km²
Time zone:
Paris (GMT+1)
International phone code:
+33