Top tips on bike rental in Corsica
21 April 2016 - Anthony Laplagne
If you are planning a cycling holiday on Corsica this year, here are some top tips on bike rental in the area from Europe Active – the adventure cycling tours expert.
Be organised
It is best to be organised for your bicycle holiday on Corsica. The 'Isle of Beauty' is a fabulous location for cycling. It is a real 'get away from it all' place, and because of that it doesn't have a cycle hire shop on every corner, (thankfully). So you need to think ahead to prepare for your Europe cycling tour. Will you take your own bike? Will you hire a bike? What kit will you need?
If you plan to hire a bike
Europe Active – the adventure travel holiday specialist - offers a number of cycling holidays on Corsica. On each of their Corsican bicycle holidays, they will be able to supply you with a bike if you request one. They also offer a bike hire service that is independent of their tours. So if you are on the island, and you're not on one of their tours, you can still hire a bike from Europe Active.
Bike hire with Europe Active
Europe Active has over 80 bikes available to rent on Corsica – so we are best placed to look after your needs on the island. There's a range of models available, suitable for a variety of adventure cycling tours:
their new carbon road bike model
a new electric bike
leisure bike
mountain bike
hybrid bike
road bike.

Free accessories!
Europe Active is expert when it comes to bikes and cycling holidays and they know exactly what the cyclist needs. We've used this knowledge to put together a pack of free accessories that they will supply along with your hired bike. These include – handle bar bag, spare tube, pump, repair kit, multi-use tool and lock. You can also hire a helmet and double back pannier. Also, you can take a look at our blog for advice on what else you should pack for your bicycle holiday.
Get your hire bike delivered to you
Europe Active will also be able to deliver your hire bike to you. The adventure cycling tours specialist is based in Borgo, a few kilometres south of Bastia, and they can deliver the bike to the airport or to your hotel. You can get in touch with Europe Active to agree delivery charges based on your location.
If you choose to take your own bike
If you are planning cycling tours Europe and wish to take your own bike, then here are Europe Active's top tips:
Ensure it's relevant for the type of trip you've booked. Is it suitable for mountain terrain or road cycling?
Check how your airline prefers you to prepare and pack your bike for the flight. (It's best to speak to them directly or check their website). This guide at two wheel travel blog will give you an idea of what's involved.
Check how much notice the airline will need and what charges will apply.
So, if you would like to find out more about Europe Active's bike hire on Corsica, or more about their adventure cycling tours Europe, please visit: cycling.europe-active.co.uk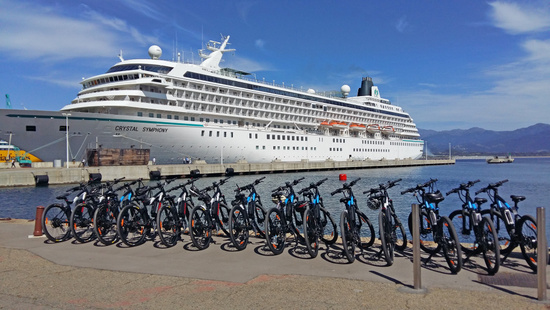 You can also visit our blog for more tips– including everything from how to prepare for a bicycle holiday through to what to pack. We're a font of knowledge of bikes and holidays!