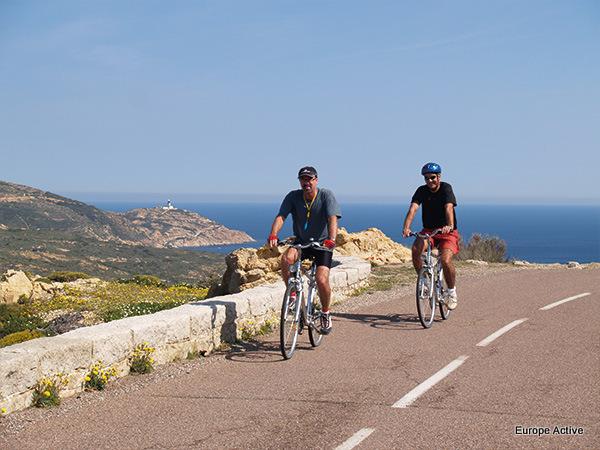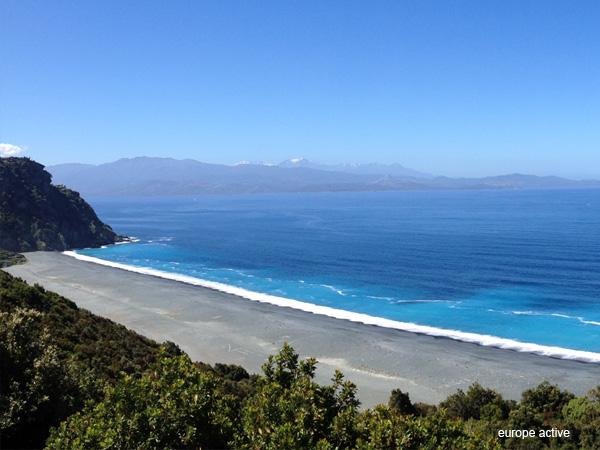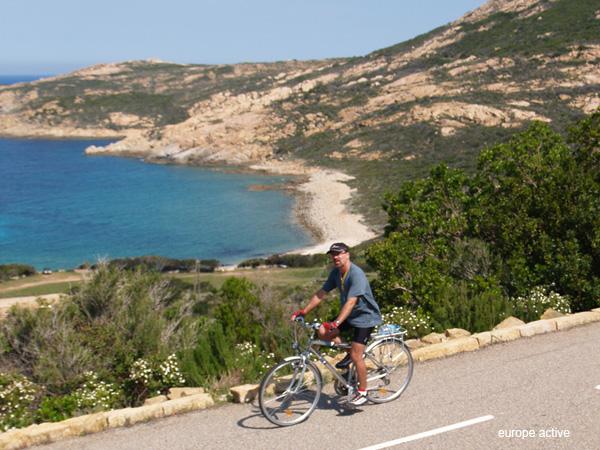 From the Cape of Corsica to the Castagniccia
8 days / 7 nights
Corsica - Leisure cycling - E-bike tours - Self-guided - E-bike
Without guide - Families - Mobile app

Last updated: 06/12/2023
price from
~851 $ [790 €]
per pers.
On this cycle holiday you will discover the coast of Corsica as well as its interior. The kilometres follow one another but they are far from being the same; with different landscapes every day. You will meet proud island inhabitants who will want to share their enthusiasm with you for their local culture and gastronomy. This is a great trip that will leave you with fantastic memories of Corsica and will make you want to return for more!
You will be accommodated in carefully selected hotels, rooms in a guesthouse or inns according to the availability at the time of the reservation.

Trip available with our digital road-book.

Please note that during the summer months, accommodation in the small villages is hard to find and may mean a small variation to the route. We try to keep any variation to a minimum.
Your day by day program
Bastia
Your holiday starts in Bastia at your hotel in the afternoon. If you have time to discover the capital of "Haute Corse", it's worthwhile visiting the old port and the citadel. From the old city there are wonderful panoramic views over the sea and surroundings. For dinner, we advise you to go to the old port which has a very lively atmosphere in the summer.
Night in Bastia.
The Cape of Corsica
This morning you'll pedal along the east side of the Cape of Corsica, only a stone's throw from the sea. You'll then cross the island to join the west coast of the Cape with its dramatic cliffs. The route is strewn with Genoese and Paoline towers as well as old convents and mills. The landscape, including the small fishing ports is splendid.

Riding distances:
59km (D+ : 1071m ; D- : 1794m ; Min. : 1m ; Max. : 381m)
or 79km (D+ : 1357m ; D- : 1081m ; Min. : 1m ; Max. : 358m)
Night stay in a charming village.
From the Cape to the Gulf of Saint-Florent.
Today you'll leave the Cape to pedal southward towards Saint-Florent. According to your chosen route, you will be able to discover the village of Patrimonio, famous in the whole of Corsica for its vineyards. Tastings are possible in the cellars of the village. In Saint-Florent, do not fail to visit the citadel and to stroll around the port and its small commercial streets.

Riding Distances:
31km (D+ : 401m ; D- : 699m ; Min. : 2m ; Max. : 306m)
or 48km (D+ : 911m ; D- : 1212m ; Min. : 5m ; Max. : 524m)
Night in Saint-Florent.
The Desert des Agriates.
Today you are in the heart of the Desert des Agriates. From hamlet to hamlet, you cross this superb 'desert' covered in the local maquis scrub (which has a fantastic smell and is amazing in the spring when the maquis is in blossom). Returning to the coast, you will soon arrive at your accommodation, not far from Ile Rousse.

Riding Distances:
48km (D+ : 843m ; D- : 642m ; Min. : 1m ; Max. : 363m)
69km (D+ : 1296m ; D- : 1098m ; Min. : 1m ; Max. : 458m)
or 80km (D+ : 1531m ; D- : 1330m ; Min. : 1m ; Max. : 683m)
Night in a village near to Ile Rousse.
Villages of Balagne.
Today you'll get 2 options: resting and lazing around or exploring the pretty villages of the Balagne by bike. 2 loops for you today: a short one towards Codole lake or a longer one towards the bewitching stone villages perched in the middle of nowhere, with an astonishing beauty that hasn't changed with time.

Riding Distances:
approximately 30km (D+ : 489m ; D- : 492m ; Min. : 62m ; Max. : 374m)
or 76km (D+ : 1500m ; D- : 1500m ; Max. : 530m)
Night in the mountains, in a 3-star hotel
The Corsica Inheritance.
You will continue through the villages of Balagne, discovering superb testimonies of the past through ancient churches and convents. You will follow the border of the Natural Park of Corsica to the Golo valley, your stopover for the night. This day will be marked by the many animals you will meet in freedom: cows, pigs, goats...

Distance to cover :

51km (D+: 957m; D-: 1600m; Min: 129m; Max: 919m)
or 63km (D+ : 1143m ; D- : 1807m ; Min. : 97m ; Max. : 922m)

Transfer from Ponte Leccia to your hotel in Lucciana (about 45min).
Night in a 3* hotel.
Loop in Castagniccia.
This last day of cycling is not the least. It will take you to the villages of Castagniccia known for their chapels, the many natural springs and the ancestral culture of the chestnut. The Royal Milan, this impressive bird of prey, which is very common in the region, will certainly not fail to hover over your heads. You will cross many rivers and streams before coming into view of the coast.

Distance by bike :
Approximately 37 km (D+ 662m/D- 661m/Min. 13m/Max. altitude 629m)
53 km (D+ 1198m/D- 1332m/Min. 13m/Max. altitude 745m)
or 60 km (D+ 978m/D- 973m/Min. 13m/Max. altitude 732m)

Second night in your hotel in Lucciana.
End of stay.
After your breakfast, a transfer can be organized towards the airport or the ferry port. End of holiday.
Departure board
From April to the end of October.
Technical information
Starting point
Your hotel in Bastia on the afternoon on day 1.
End
After breakfast on day 8 - near Bastia airport.
Accommodation
6 nights in 3* hotels, 1 night in local inn.
Level of difficulty
This program offers you the choice of distance you wish to ride each day, however, please be aware that on all routes there are a lot of hills! You can adapt the stages to your ability. The distances vary from a minimum of 30km to a maximum of 80km. The longest minimum stage is 63km. The first stage is the longest, but also the easiest in terms of terrain.
Carrying
Your luggage is carried by vehicle if you choose this option.
Options
Single room : 350€
June and September departures : 45€
July and August departures : 130€
Cost for luggage transfer (to be shared between the number of participants) : 940€
Hybrid bike rental : 190€
Electric bike rental : 250€
Aluminium road bike rental : 275€
Carbon road Bike rental : 345€
Included
Nights in hotels, guest houses or hostels, in double rooms
Breakfasts
Local telephone assistance
Your personalized application with details of each stage (a smartphone is required).
Not included
Luggage transfer
Transfers not included in the programme
The insurance
Drinks, meals (except breakfasts)
Bike rental
Map
Similar holidays